Roll over image to zoom in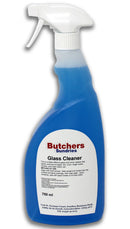 Product Details
Butchers Sundries Glass Cleaner 750ml
This glass cleaner is a highly effective glass and mirror cleaner that rapidly removes smudges, finger marks and dirt. This item is perfect for keeping counter displays and shop windows clean.
Method of use:
Apply with hand sprayer. Hold upright 6-8 inches from the surface and spray sparingly. Wipe clean with a paper towel or lint free cloth.
You can simply call us on 01530 411275 between 9.00am - 5.00pm Monday - Friday or email us at customerservices@butchers-sundries.com where we are here to answer any questions you may have. We have a team of highly skilled customer service advisors and even ex butchers here to give you the correct and best advice.
Payment & Security
Your payment information is processed securely. We do not store credit card details nor have access to your credit card information.