Roll over image to zoom in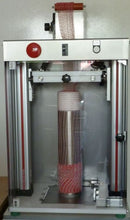 Product Details
Description

Product Video
RSM 'RAFF-FIX' Net Gatherer (Table Top Net Loader)
Our 'RAFF-FIX' Net Gatherer is the perfect solution to be used with our RSM 600/900/1200 net stuffing machines, used for gathering pull-on nets and is ideal where lots of netting needs to be gathered.
Features:
Can be used with the RSM 600/900/1200 net stuffing machines or as a stand-alone table top net loader
Can be used with all standard net tube sizes
Product Specification:
Height: 940 mm
Width: 500 mm
Depth: 570 mm
Compressed air: 6-7 bar
Consumption: 14 litres per cycle
Weight: 60 kg
Calibre: 70-170 mm (180-230 mm available on request)
Option: Wheeled base on request
Non standard goods such as special order items, order on request items or custom made items cannot be cancelled nor returned.
You can simply call us on 01530 411275 between 9.00am - 5.00pm Monday - Friday or email us at customerservices@butchers-sundries.com where we are here to answer any questions you may have. We have a team of highly skilled customer service advisors and even ex-butchers here to give you the correct and best advice.
Payment & Security
Your payment information is processed securely. We do not store credit card details nor have access to your credit card information.