Roll over image to zoom in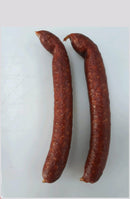 Product Details
Description

Product Video
21mm Vegetarian Sausage Casings - Multiples of 5 Sticks
We are excited to launch a brand new Veggie Casing from Viscofan. A fantastic natural and edible choice that is 100% vegetarian, gluten-free, GMO-free and allergen-free, these are ideal for both vegetarian and vegan sausages. These casings have an excellent natural look, are transparent and shiny with good frying properties and a very tender bite.
The Veggie casings are ready to use and are made from 100% plant-based ingredients. Viscofan are world leaders in producing exceptional quality sausage skins and use state of the art technology to shape the ingredients into casings.
Features:
100% vegetarian, gluten-free, GMO-free and allergen-free
Ready to run, no need to soak or wash out
Tailor-made for each application with uniformity, high gloss and shine

Easy cut, excellent natural look, transparent and shiny

Excellent for pan frying

Suitable for making hot dogs

Supplied as individual sticks, multiples of 5 sticks, a caddy or a case
Product Specification:
Veggie Casings Product Specifications
Diameter of Veggie Casing
19mm
21 and 24mm
26mm
28 and 30mm
Stick Length
15.24 metres
15.24 metres
15.24 metres
15.24 metres
Sticks Per Caddy
72 sticks
50 sticks
43 sticks
32 sticks
Amount of Caddies Per Case
6 caddies
6 caddies
6 caddies
6 caddies
Metres Per Caddy
1097 metres
762 
metres
655 metres
487 metres
Metres Per Case (6 Caddies)
6583 metres
4572 
metres
3930 metres
2926 metres
Open End
Yes
Yes
Yes
Yes
You can simply call us on 01530 411275 between 9.00am - 5.00pm Monday - Friday or email us at customerservices@butchers-sundries.com where we are here to answer any questions you may have. We have a team of highly skilled customer service advisors and even ex butchers here to give you the correct and best advice.
Payment & Security
Your payment information is processed securely. We do not store credit card details nor have access to your credit card information.