Roll over image to zoom in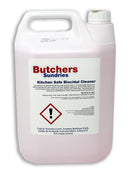 Product Details
Butchers Sundries Kitchen Safe Biocidal Cleaner 5ltr
This Biocidal Cleaner is an effective bactericidal multi-purpose cleaner. The bactericides present are effective against both gram-positive and gram-negative organisms but are totally safe to use on food surface areas. This Biocidal Cleaner is recommended for cleaning and sanitising floors, walls, catering equipment and machines.
Methods of use
Apply by spray, mop, swab or sponge. Dilute with hot or cold water if required.
You can simply call us on 01530 411275 between 9.00am - 5.00pm Monday - Friday or email us at customerservices@butchers-sundries.com where we are here to answer any questions you may have. We have a team of highly skilled customer service advisors and even ex butchers here to give you the correct and best advice.
Important Notice
Please note that due to the unprecedented demand for these products, the item received may differ slightly from the picture displayed.
Please note Challenge 25 now applies to this product and as such will not be sold to under 18s.
Payment & Security
Your payment information is processed securely. We do not store credit card details nor have access to your credit card information.