Roll over image to zoom in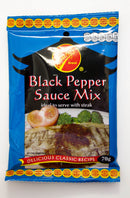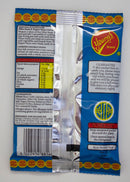 Product Details
Description

Nutrition per 100g
Chinese Black Pepper Mix
Please Note: This product has a short shelf life and expires on 30th September 2023, hence reduced price.
A concentrated gravy/pepper sauce mix which is powdery in appearance in its dried form. It has an aniseed and pepper type flavour.

This product is ideal for use as a point of sale item to sell within retail Butchers shops. Below you will find a table which indicates the cost price, recommended retail price and the potential profit margin you can make on each sachet.
| | | |
| --- | --- | --- |
| Cost per sachet | Sell per sachet | Profit |
| 0.69 | 0.85 | 20% |

Ingredients: Wheat Flour (with Calcium, Iron, Niacin and Thiamine), Palm oil, Potato Starch, Black Pepper, Salt, Sugar, Flavour Enhancer E621, Colour (Caramel E150c), Extract of Onion, Bay Leaves, Star aniseed and Garlic
Allergens: Wheat Flour, Gluten
Create your own homemade Black Pepper Sauce with these simple and easy steps;

1. Pour the full contents into a saucepan and add 1 pint (565ml) of cold water.
2. Apply maximum heat and stir the mixture constantly with a whisk.
3. Once the mixture has reached the desired thickness, take off the hob, pour and serve.

You can simply call us on 01530 411275 between 9.00am - 5.00pm Monday - Friday or email us at customerservices@butchers-sundries.com where we are here to answer any questions you may have. We have a team of highly skilled customer service advisors and even ex butchers here to give you the correct and best advice.
Nutrition per 100g of Black Pepper Mix
Energy (KCAL):
41
Energy (KJ):
172
Fat (g):
2
Saturated Fat (g):
0.9
Available Carbohydrate (g):
4.7
Sugar (g):
0.3
Protein (g):
0.8
Salt (g):
1.1
Payment & Security
Your payment information is processed securely. We do not store credit card details nor have access to your credit card information.